Fevziye Buğa looks like a typical 70-year-old retiree from rural Turkey, someone who spends her days working in the garden and baking cakes for her grandchildren.
But Buğa's appearance is deceiving – she is also a fierce and effective environmental activist, whose efforts to prevent a power station being built near her village of Pınarca have made her well-known across the country.
In 2016, when the Turkish government decided to build a coal-fired plant in  Buğa's municipality of Çerkezköy in north-western Turkey, she was horrified at the prospect of pollution destroying the local countryside.
"We inherited a clean world from our ancestors and we should leave it to our grandchildren in the same condition," Buğa said. "When I look at this place, I want to see green forests and to inhale clean air. But if they build a coal-fired power plant here, all that will change."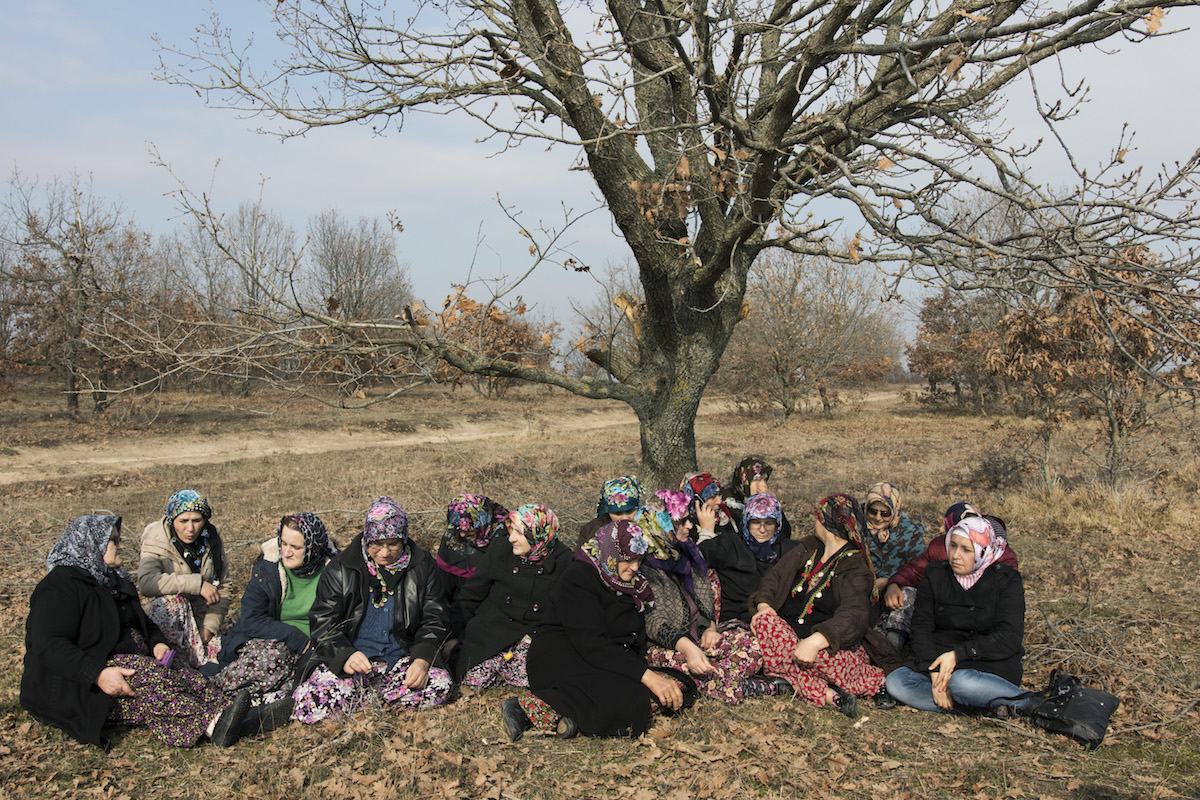 To find out about the possible consequences of a coal-fired plant, in February Buğa and some other Pınarca residents travelled to villages in the vicinity of Zonguldak Çatalağzı, a mining city in northern Turkey, which had been affected by a local power station.
The burning of coal releases pollutants, such as oxides of nitrogen and sulfur. Other emissions such as carbon dioxide and methane are known to contribute to global warming and climate change.
To remove impurities from the fuel, power plants use large quantities of water in a process known as coal washing. This can also seriously affect local flora and fauna, while the discharge of dirty water after coal washing can harm wildlife and pollute both water sources and the soil.  
The Pinarca delegation heard from villagers from the Zonguldak Çatalağzı region who described how, with rising air pollution, they no longer kept their windows open at home and children seemed to get sick more frequently.
One thriving local industry had been collecting and selling wild chestnuts, but since the quality had deteriorated no one wanted to buy them anymore.
When the group from Pinarca returned, they told their fellow villagers about the threats such plants posed. Almost everyone united to oppose construction, recruiting the local authorities to support their initiative. The environmental charity Greenpeace and Çerkezköy municipality even filed a joint lawsuit to try and prevent construction of the plant.
The campaigners stressed that Çerkezköy is one of Turkey's most important agricultural areas; according to the Thracian Development Agency, it produces 46 per cent of the entire country's rice harvest as well as 46 per cent of sunflower production and 12 per cent of wheat.
Buğa began liaising with the environmental groups that came to the region, starring in a Greenpeace video that was widely circulated in Turkey. She spoke at local protests and became a regular fixture on Turkish and international media.  Buğa even wrote a letter to the First Lady, Emine Erdoğan, appealing for her to support their protest against the power plant.
In September 2017, local activists won a significant victory when Turkey's High Court ruled that plans for construction must be suspended.
The project cannot proceed without the permission of the ministry of environment and urban planning, an edict Buğa hopes will never be issued.
But the battle is not over yet. Following the ruling, some changes were made to the original project. The plant is now supposed to be located in nearby area forested with thousands of oak trees.
However, locals there are also protesting against the construction in this new location, and the Environmental Impact Assessment (EIA) agency has not yet given its approval either.
A legal adviser for Greenpeace Mediterranean Campaigns, Deniz Bayram, noted that a positive EIA report was needed before construction could proceed.
"The power plant project is threatening the last remaining [area of] environmental value in the region. The project will not merely destroy the forest of oak trees but also cause the extensive consumption of underground water resources," he said. "If permission is given for the construction of this power plant, the health of all residents will be endangered."
Turkey has signed the Paris Climate Treaty and is thus committed to decreasing its emissions of greenhouse gasses until 2030. However, it is yet to implement any part of it.   
Environmental activists claim that the government is putting insufficient efforts into the development of renewable energy sources, and still relies heavily on old-fashioned power plants.
As a developing economy, Turkey's energy requirements are constantly increasing. In November 2017, President Recep Tayyip Erdoğan said that Turkey's need for energy had doubled since 2002.
According to the ministry of energy, a further increase of two to four per cent each year is anticipated.
The ministry of energy has made clear that coal is an important factor and is both constructing new mines and improving existing ones. Their data shows that electricity production from coal in Turkey rose from 27 per cent in 2015 to 33 per cent in 2017.
Climate change researcher Önder Algedik, a founder of the Consumer and Climate Foundation and the 350 Ankara Climate Activism Group, has researched Turkey's coal policies.
A report he produced last year posited a direct link between the rising number of natural disasters in Turkey and an increase in power plants.
He noted that between 1990 and 1999, 67 natural disasters such as droughts, floods and hurricanes were recorded in Turkey. However, in 2016 alone there were 752 such incidents. Many cities across the country also experienced record high temperatures.
"The high level of carbon produced by Turkey is going to cause irreversible harm," he wrote.
Back in Pınarca, Buğa is determined to continue campaigning until the threat of a coal power station in the area is gone. Local and international journalists continue to visit her house to hear about her battle to protect the beautiful, unspoiled nature around her village. She makes pastries and cooks for them, presenting her case to everyone who will listen.
Buğa is proud of the fact that she never buys any fruits or vegetables at the local market, growing everything she needs in her own garden. But she is convinced that the construction of a new power plant would change that.
"When they build a coal fired power plant, they will use our rivers for coal-washing. They will poison our waters and I will not be able to grow vegetables in my garden anymore," Buğa said. "It would be such a shame."